The Vineyards at Hickory Hill
Pick Your Own Wine Grapes
Where the hobbiest / home winemaker can select and harvest high-quality, fresh wine grapes for their next fine vintage.


Sunday Sept. 25

10:00 AM - 5:00 PM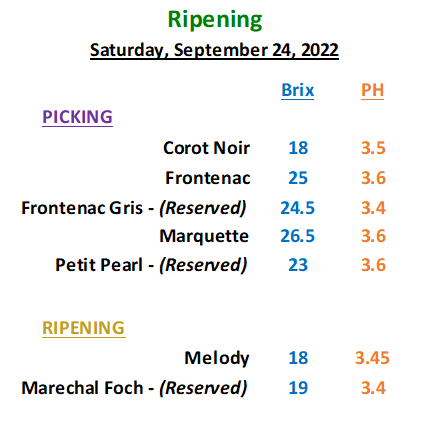 OPENING: Sunday, September 25, 2022
We will be open Sunday as posted above.. We will be open for picking
Frontenac
and
Marquette.
This looks like the weekend for peak ripeness in terms of Brix and PH. I'm planning to pick for myself on Sunday or Monday and not wait any longer. the color of the Frontenac juice is a deep, rich burgundy color, and Corot Noir suggests a lighter Red or even Rose. Petite Pearl has developed an amazing flavor and I can see why the wine is noted for complexity and rich fruit flavors. A visitor was interested in making grape jelly with something other than the typical "Welches" flavor. I have a hunch that Petit Pearl would be an excellent candidate. A customer has committed to pick all of the Petit Pearl this year, but there is always next year for wine and jelly makers! Many of you have been following the Brix and PH data that I've posted here and on Facebook. I'll be posting graphs of the ripening profiles to help in my own planning and for everyone else for next year. Please check out the
Harvest
page for more information.
A Note About Water:
Hot, dry, sunny days are perfect for the vines and fruit development. But with the prolonged drought conditions that we are now experiencing, the vines do need a carefully metered drink of fresh water to maintain optimul growth.
"Fine Wine
Begins on the Vine"
Growth:
We're also planning for planting Block 2 next year. Yes, believe it or not, we have to order nursery stock, trellis components and implement soil amendments a full year or more in advance of planting.
We are commited to invest in and nurture the vineyard to provide the highest quality grapes for the beginer or experienced hobbyist - home winemaker.
We decided early on to invest in a drip irrigation system to provide precise delivery of water to the vines. These systems were originally developed for arid, desert conditions. In years gone-by, we may not have needed an irrigation system after the first year. But with the changing environment and climate conditions with annual droughts, it is now a neccesity. Drip systems are very efficient and deliver the exact amount of water slowly to the exact place we want it. Unlike overhead, broadcast irrigation systems, the leaves stay dry which helps to minimize the spread of fungus, and it doesn't water alot of extra weeds.